Putting the Alliance AgriFlex 363 to Work
Farmers today face challenges that previous generations couldn't have imagined: stress on the soil from bigger and more powerful equipment, running machinery on the road at higher speeds, and the ever-increasing need to produce more—even in less-than-ideal conditions. We're hard at work designing tires to help farmers and custom applicators overcome the challenges they face on a daily basis. Check out this video where one of our customers talks about how the Alliance AgriFlex IF 363 is helping him to farm more profitably.
We ask a lot of our farm tires these days, expecting them to deliver excellent results while remaining affordable. However, what sometimes gets lost is how they ride. In our video testimonial, Blake Elbert emphasized the superb ride quality delivered by the 363 IF several times. Whether it was in the field, on the road, or even those times when he was riding on both, the Alliance 363 delivered a smooth, comfortable, and predictable ride.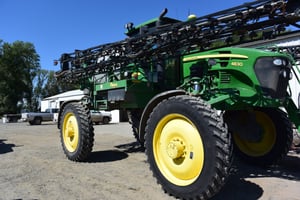 Just because the 363 IF rides great, don't think it doesn't perform well. Engineered to help minimize soil compaction and reduce rutting, these tires are a huge benefit to farmers and applicators who have to switch from flotation tires in the spring to narrower tires in the summer. Blake discovered that the Alliance 363 could handle the tasks of both these tires, as they are able to provide the flotation of wider tires while being narrow and maneuverable like row crop tires. Even better, thanks to the steel belts under the tread found in all Alliance IF/VF tires, Blake noticed a nice, even footprint on the ground and minimal sinking, even when the ground was wet and he was carrying a heavy load.
We are proud help farmers tackle some of the real challenges facing them. We are even prouder when a farmer like Blake Elbert takes time out of his busy day to sing our virtues for us. We're confident that farmers all over will love the performance and price of our fantastic Alliance AgriFlex 363 IF tire, but you don't have to take our word for it. Just listen to Blake.