Five Things to Know About the International Construction and Utility Equipment Exposition (ICUEE)
1. It's big: With indoor and outdoor exhibits covering more than 25 acres of the Kentucky Exposition Center in Louisville, Kentucky, ICUEE is the largest gathering of utility suppliers in the western hemisphere.
*Insider tip - the event is so large that there's a network of golf cart taxis and intra-show shuttles to help you get where you need to be.
2. It's well attended: This prestigious event is always well attended, and this is looking to be its busiest year ever. ICUEE is hosting over 900 exhibitors with 200 of them being new to the show this year. In addition to the exhibitors, ICUEE anticipates over 17,000 professionals to attend this event. If you are looking to network with your peers and meet industry leaders, then this is the place to be!
* Insider tip – the show features a "Fuel Stop" with charging stations, Wi-Fi, and beverages. It's a great place to charge up, check up, and network with your colleagues.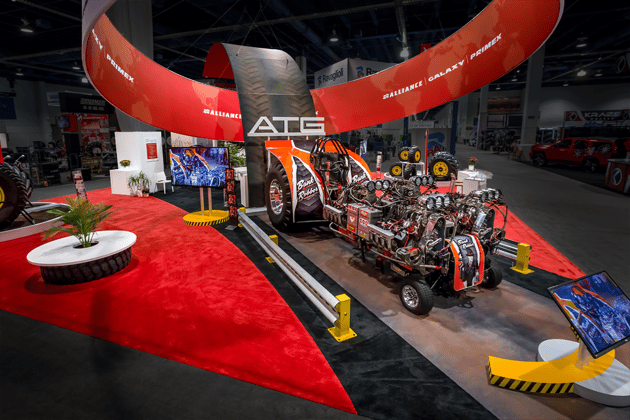 3. It lets you see products in action: With outdoor demonstrations in job-like conditions, you can see how many of the available products perform in action. See underground, ground level, and aerial equipment at work in their intended environments. You should spot our Galaxy, Alliance, and Primex brand tires easily on the demo field, after all, they are the original equipment on some of the most popular skid steers, backhoes, tractors, and loaders on the market.
*Insider tip – the two-mile "Ride & Drive" test track allows you to try out the latest in trucks, truck engines, and components on the open road.
4. It has its own mobile app: Easily plan and personalize your ICUEE experience with the mobile app. Don't let the enormity of the event overwhelm you—the mobile app can help you make the most of your time and keep you on track. If something does come up, the mobile app can be updated onsite.
*Insider tip – don't forget to plan for some time to see the latest Galaxy, Primex, and Alliance tires in Booth 3924!
5. It's fun: Using the mobile app, you can participate in the Demo Derby Game. Just visit participating booths to earn points for the chance to win prizes. ICUEE will also feature a Pedometer Challenge this year, so register for a pedometer and earn a chance to win a prize with every step you take.
*Insider tip – don't forget to step into our booth to learn about our latest products, technologies, and innovations. We look forward to showing you what makes Alliance, Galaxy, and Primex tires global leaders in the construction and utility industries.
Don't miss it! The ICUEE takes place at the Kentucky Exposition Center in Louisville, Kentucky from September 29 through October 1. We'll see you at booth—3924.