Skid Steers vs. Compact Track Loaders


The importance and effectiveness of skid steers on the job site have grown exponentially since their inception in the 1950s (See The Skid Steer Revolution). The advent of the compact track loader (CTL) has increased the available options for operators interested in these versatile machines, which can be found on farms and job sites in every corner of the world. If you're in the market for a compact loader but can't decide between a skid steer or track loader, here are 10 reasons why we think rolling with wheels is the way to go.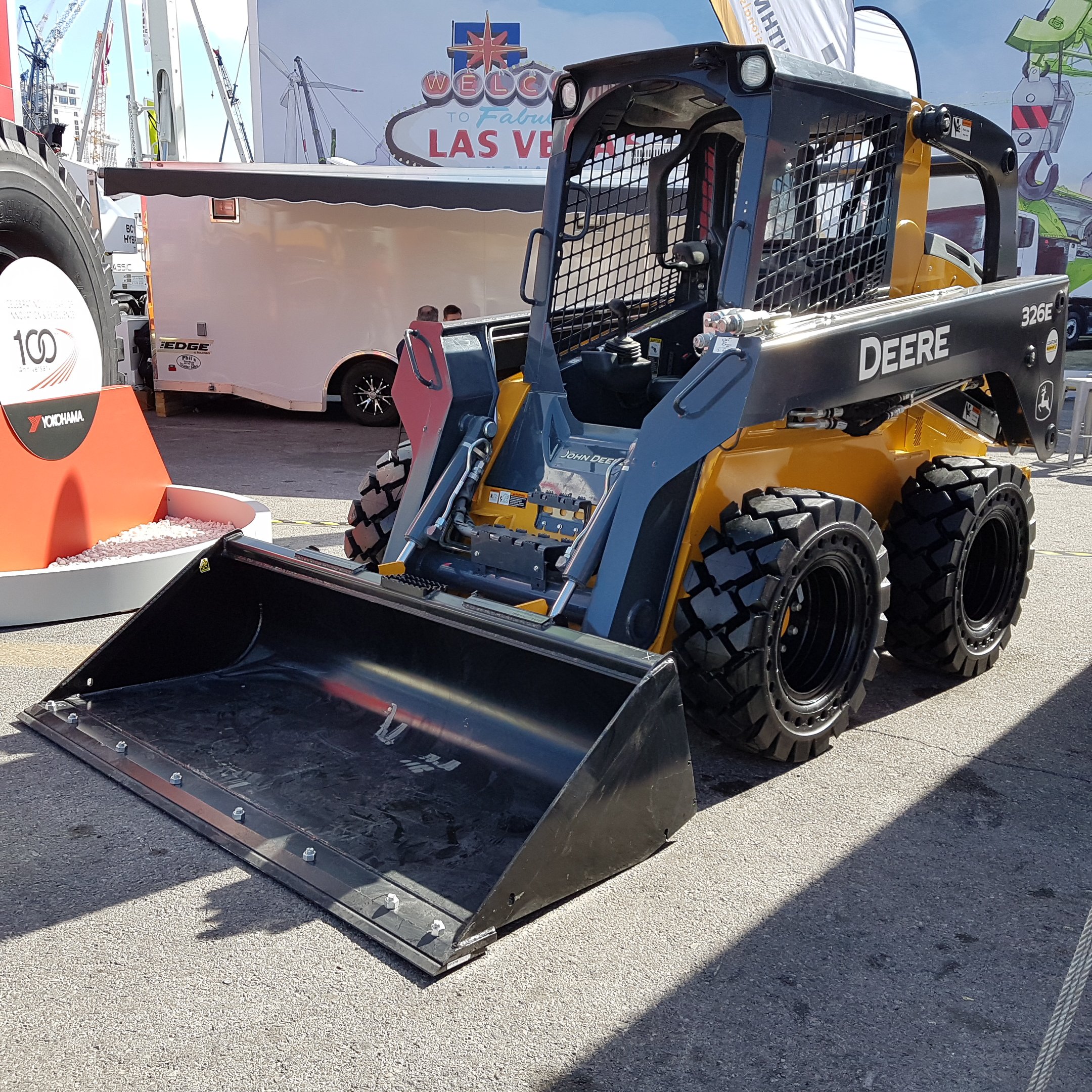 1. Hard Surface Heroes


Skid steers on tires beat machines on tracks on hard surfaces like concrete and pavement - they move more easily and are capable of maneuvering at higher speeds. Additionally, tires wear more slowly than tracks on these types of terrain. Because of the superiority of tires on hard surfaces, skid steers have remained the go-to machine for roadwork, demolition, scrap, recycling, feedlots, and for many landscaping projects.

2. Winter Worker


Many of the same qualities that make skid steers preferable for work on hard surfaces also make them ideal for snow removal. The four tires found on a skid steer exert more ground pressure than a track loader, resulting in better traction and more efficient removal of snow and ice than a track machine. And since most snow removal occurs on asphalt and concrete, tires will outlast tracks in this application.

3. Trouble-Free Transport


Skid steers move at higher speeds than comparable track loaders—especially on hard surfaces—making them ideal for work on large construction sites or other areas where the machine is covering large distances. Skid steers also weigh less than similarly equipped compact track loaders, simplifying and reducing the expense of moving them from site to site.

4. Fueling the Flames


And speaking of lighter weight, skid steers, on the whole, are lighter than compact track loaders owing to the fact that wheels are lighter than tracks. This results in skid steers being more fuel efficient than CTLs.

5. Elevate Your Operation


When operating on variable surfaces like uneven, rocky construction sites, tires provide more clearance than tracks. This extra clearance reduces the likelihood of mud, rocks, stones, and other debris from damaging the machine's undercarriage and causing dreaded downtime.

6. Cut Down on Up Front Costs


Perhaps the greatest differentiation between skid steers and track loaders is cost—skid steers are simply the more economical choice. Skid steers are less expensive upfront, typically costing between 20% and 30% less than a comparable CTL.

7. Minimize Maintenance


It's not just at the initial purchase where a skid steer will prove more economical than a track loader. CTLs require more frequent—and more expensive—maintenance than a wheeled machine, requiring regular replacement of tracks, bogie wheels, sprockets, and idler wheels.

8. Building Our Case


Skid steer tires are offered in a variety of construction types including bias, radial, solid, and press-on applications. That means you can find a tire for every type of operation, from basic bias to severe-duty solid and everything in between.

9. Tread Types


Just as skid steer tires are offered in a variety of construction types, they're also available in a wide variety of tread patterns. The diverse selection of treads allows operators to match their tire to their application—choosing aggressive treads like the extra-deep bar lugs on our Galaxy Muddy Buddy for work in slick, muddy conditions; chunky blocks like our durable Galaxy Hulk; the all-around treads on our workhorse Galaxy Beefy Baby III; or the treadless Galaxy Super Smooth for super-long life on hard surfaces.

10. Been There From the Beginning


We've been making skid steer tires since the start—our Galaxy Beefy Baby was the first tire designed specifically for the skid steer market. The Beefy Baby lives on in our lineup; today, the Beefy Baby III improves on the durability and low cost per hour that the original built its reputation on, with a few innovations that make it our best version yet.
Whether you're looking to maximize your skid steer's performance, reduce operating costs, or simply want the longest-lasting tire available, Galaxy has a tire for you. Contact your local dealer or your rep today to learn more.