OTR Tire Safety Advice From Salespeople, Field Engineers, and Technicians

OTR salespeople, field service engineers, and technicians face unique challenges when selling and servicing tires—whether it's massive equipment, complex environments, or less-than-ideal conditions. The best OTR personnel understand the importance of prioritizing safety: it helps them protect themselves from potential injury and their customers from running afoul of regulations. Training is at the foundation of safe service calls and is a proven way to teach about potential site hazards and instill good practices.
Experience also plays a significant role in site safety, which is why we reached out to some of the Yokohama Off-Highway Tires America team in the field to get their best tips for staying safe while working in the field.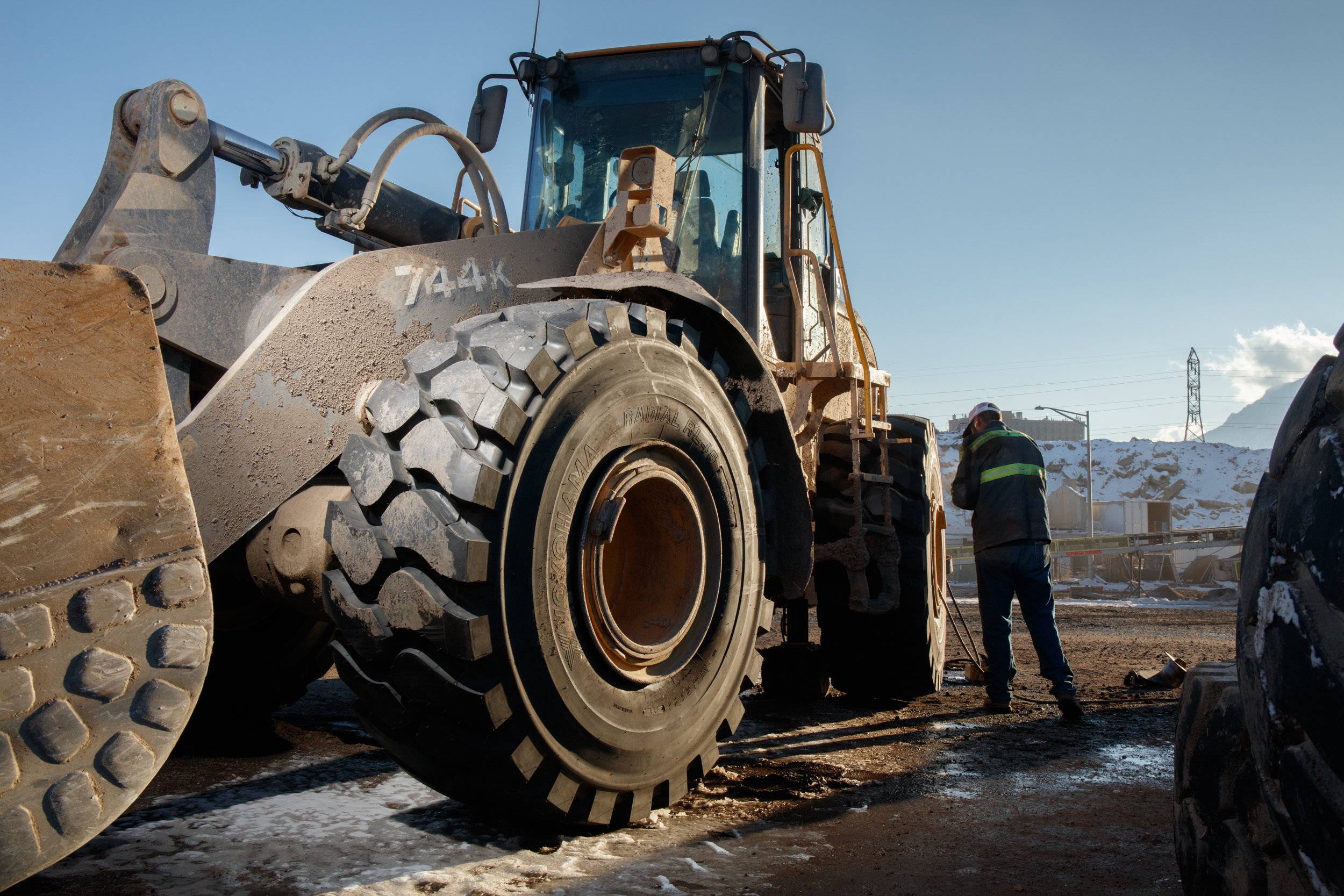 Have the Proper Personal Protective Equipment (PPE)


Sam Kwa, OTR Technical Service Manager at Yokohama Off-Highway Tires America, says that techs should "always have the correct PPE for site visits." He goes on to say that "a hard hat, high-visibility vest, safety glasses, and safety-toe boots are the standard."
Work gloves are also a useful piece of PPE to have in your kit. In 2018, more than 43% of the non-fatal occupational injuries to the upper extremities involving days away from work in the private industry involved hands—according to OSHA, PPE, specifically safety gloves, could have prevented more than 70% of hand and arm injuries. It's also worth adding over-the-ear muffs to your PPE—running equipment and inflating/deflating tires can create dangerous noise levels which can lead to hearing loss.
David Burgos, District Sales Manager for Yokohama Off-Highway Tires America, suggests that "even if the salesman says he never wears a hard hat or other PPE when visiting a facility, OTR personnel always wear theirs. The last thing anyone wants is a violation against their customer or a potential customer because they didn't follow the rules."


Certifications and Site-Specific Training


Sam Kwa also reminds OTR personnel to "have the proper certifications, such as Mine Safety and Health Administration (MSHA) and Transportation Worker Identification Credential (TWIC). David Burgos offers the reminder to "check into, and out of, the facility and do any site-specific training necessary." Burgos warns that "some salesmen will say don't worry about checking in or training' because they're in a hurry, but take the time to follow the rules."


Partner Up


Burgos recommends, "when doing inspections, it's always best to go with a dealer salesman and/or their service tech. They know the facilities and the operators." Visiting a site with someone familiar with its traffic patterns, practices, and communication methods is invaluable to safety.
Another benefit to buddying up when working in the field is that it provides a second set of eyes to keep a lookout for potential hazards. Consider that according to the MSHA, 43% of fatalities at mine sites are the result of powered haulage accidents when large haul trucks run over people and other equipment—the large haulage trucks used in mining have blind areas which can obscure equipment, structures, and people.
If not for safety's sake, there is another advantage to taking along a teammate. Burgos has noticed that customers and potential customers "are sometimes more receptive to reps when they're accompanied by their favorite service or sales person."


Aware of Surroundings


Rob Miller, Yokohama Off-Highway Tires America Director of Sales–Western U.S., stresses the importance of paying attention to surroundings and staying out of harm's way. One simple step OTR personnel can take according to Miller is to "avoid standing underneath suspended loads." Whether it's a huge OTR tire being maneuvered into place with a crane or a jacked-up piece of heavy equipment, it's imperative to steer clear of potential fall zones.
Miller also encourages OTR salespeople, field service engineers, and technicians to "give themselves an escape path when inspecting a tire and never to place themselves between a tire and/or wheel assembly and a fixed object." Essential to staying safe when working with OTR tires is an understanding of trajectory, which is the potential path a rim or wheel component may travel during the sudden release of tire pressure.
Trajectory is a particularly important consideration when inflating tires. The use of remote inflation/deflation devices is an excellent step to avoid being in the proximity of a potentially dangerous situation. Depending on the situation and size of the tire being inflated, a safety cage or strategically placed piece of equipment or another type of barrier can provide additional protection in the event of a blowout.


Expect the Unexpected


Even seemingly mundane situations can pose unexpected threats to those working with OTR tires as Joe Garcia, Regional Sales Director at Yokohama Off-Highway Tires America, points out—"stay alert for rodents, insects, snakes, and other creatures when inspecting tires that have been out of service for some time."
Yokohama Off-Highway Tires America


Yokohama Off-Highway Tires America is focused on delivering the highest-performing and longest-lasting tires in the industry. We're also committed to safety and seeing that everyone makes it home at the end of the day. We encourage all of our salespeople, field service engineers, and technicians to put safety first when working in the field. And we encourage all of our friends and customers to take an extra step or spend an additional minute to ensure their own well-being along with the well-being of those around them.
Contact your local dealer or rep today to learn more about our premium line of Yokohama OTR tires.